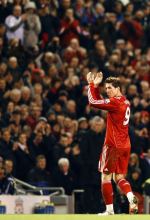 Getty Images
<a href='http://openx.detik.com/delivery/ck.php?n=a3a24c19&cb=INSERT_RANDOM_NUMBER_HERE' target='_blank'><img src='http://openx.detik.com/delivery/avw.php?zoneid=66&cb=INSERT_RANDOM_NUMBER_HERE&n=a3a24c19' border='0' alt='' /></a>
Liverpool - Kabar rencana kepergian Fernando Torres dari Liverpool bisa jadi bukan sekadar isu. Kubu The Reds mengakui kalau El Nino sudah mengajukan permohonan resmi untuk dijual, meski permintaan itu ditolak.

Soal kemungkinan Torres pergi dari Anfield sudah terdengar santer bahkan saat Rafael Benitez masih menjadi pelatih di Anfield. Sebabnya adalah kurang kompetitifnya Liverpool baik di Liga Inggris maupun di kompetisi Eropa.

Faktanya, sejak Torres datang tahun 2007 lalu Liverpool belum mendapatkan trofi apapun. Klub Inggris tersukses di Eropa tersebut bahkan terperosok makin dalam musim ini dengan sempat berada di zona degradasi.

Kondisi tersebut sepertinya tak bisa diterima Torres. Setelah Liverpool kemarin mengonfirmasi penawaran resmi yang sempat dilakukan Chelsea pada striker andalannya itu, kali ini manajemen The Reds mengabarkan soal permintaan Torres untuk ditransfer.

"Fernando Torres malam ini mengajukan permintaan untuk ditransfer secara tertulis, yang ditolak oleh Liverpool. Fernando berada di bawah kontrak jangka panjang dan pihak klub berharap dia menghormati komitmen yang dia buat dengan Liverpool dan suporternya saat menandatangani kontrak," demikian pernyataan resmi The Reds seperti dikutip dari Skysports.

Sejak bergabung dengan The Kop dari Atletico Madrid di tahun 2007 lalu, Torres sudah membuat 65 gol dari 102 penampilan di Liga Inggris. Selain kesulitan menemukan performa terbaik, Torres juga kerap dihadang cedera.

Meski penawaran yang diajukan sudah ditolak, Chelsea tetap dianggap sebagai klub yang berada di pole position untuk mendapatkan pesepakbola internasional Spanyol itu.
Doni Wahyudi - detiksport